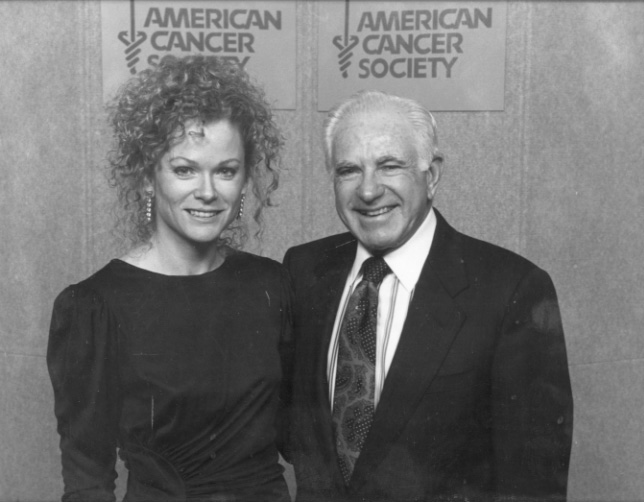 Kristi Blazer and Judge Wapner
Kristi spent her early years on a ranch, near Coeur d'Alene Lake, Idaho. She obtained her political science degree, magna cum laude, from the University of Colorado. She obtained her law degree, with honors, from Northwestern School of Law in Oregon. Kristi began her career as an appellate law clerk in Idaho. She then spent six years in private practice specializing in civil litigation (primarily defense) at the trial and appellate level. During those six years, Kristi practiced in Idaho, Washington and Oregon, in both state and federal court.

In 1991, Kristi moved to Montana, a lifelong dream. She then served three years as an Assistant Attorney General, practicing in litigation (including two lengthy school funding trials) and administrative law. In late 1994, the law firm of Luxan & Murfitt recruited Kristi and she was a member until October 2003, with the final five years as a partner. Kristi continued to emphasize litigation. In 1997, she was retained by the Montana Beer & Wine Wholesalers Association [MBWWA] and began lobbing before the Montana legislature.

In October 2003, Kristi embarked on another lifelong dream - opening a small town practice. Missouri River Law Office was established in Craig Montana, a fly-fishing town along the Missouri River. Kristi continues to proudly represent the MBWWA and the Montana Association of Mortgage Brokers. In addition, she operates a general law practice, with emphases in the areas noted in this website.

Kristi currently serves on the Professionalism Committee, and is the Chair of the Resolutions Committee for the State Bar of Montana. She spends her free time outdoors: rafting rivers, snow and water skiing, riding horses, running and photographing friends, family, and Montana's beauty.
Areas Of Practice
Attorney Resume
Lobbyist Resume

---

---